Long range shooters?
04-14-2014, 01:20 AM
Join Date: Sep 2012
Posts: 8

---
It sounds dangerous for me, I never tried it to be honest. However, state taxes are amusing things, as no one wants to pay them but every person wants the things they pay for. Some states are mulling changing entirely to sales taxes, but the arguments for and against sales taxes and
state taxes
are equally persuasive.
04-15-2014, 12:14 AM

---
I do some long range shooting but it might not be very long range to others. The most I shoot out to is 200 yards at this point. That is mainly because that is the max at the ranges I belong to. There are plans for a range to be built and have 1600 yds. but that is far off into the future. I also don't have the best guns for this type of shooting and I usually borrow my dad's. 22-250 and 6.5 creedmore are the rounds that we use. I don't do any reloading at this time but I would love to get into it, it looks like a nice calming activity that I could do while the family sleeps.
zfk55, what do you do for shooting?
04-15-2014, 07:35 PM
Join Date: Jan 2014
Location: Lost Prairie Montana
Posts: 63

---
This is the builder of my son's 1,000 yard MOA rifle shooting a target 1 mile away at the USMC High Angle range at Hawthorne Nevada. He's the developer of the Windrunner series of 408 and 50 caliber rifles and the head R&D man for EDM Rifles.
My son and I spend a lot of time in the winter in here developing load data for Swiss Rifles.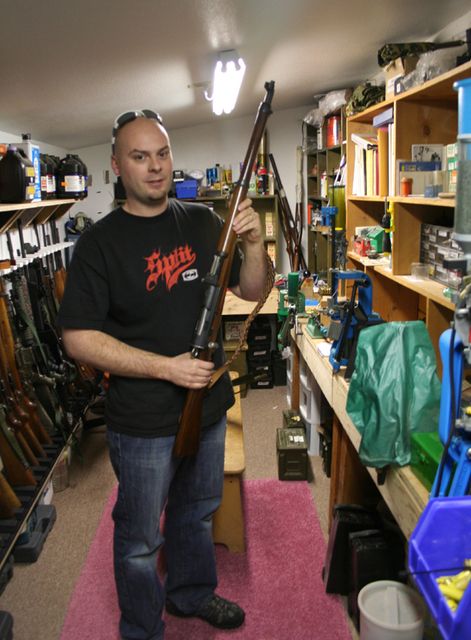 Our range is a 500 yard range, and Swiss Rifles are my passion and have been for a good 55 years. When I retired I opened a little retirement business. Unfortunately it didn't stay that way. Now, among other things, my Son manages it for me. We don't sell direct to the public.
www.swissproductsllc.com
And this is one of our US dealers. The other is Brownells with 3 in Europe.
Graf & Sons - Search results for 'Swiss Products'
This is the range next to the house.
And this is the ShootShed for winter, even subzero shooting, both lighted and heated with both benchrest and prone shooting ports.
So, Patty me boy........... You might say I do a lot of shooting.
---
Last edited by zfk55; 04-15-2014 at

07:39 PM

.
04-15-2014, 11:58 PM

---
Wow, nice pics! I am insanely jealous of your range set up! I would love to have something like that at my house and a good shop to boot. I would really like to get into the firearms business, but there is so much red tape and zoning issues. That other picture of the 1000 yard MOA range is crazy! I could not imagine shooting at that distance, awesome.
I am curious to what kind of Swiss guns you use?
As always, thanks for sharing and keep us posted with your projects.
Thread
Thread Starter
Forum
Replies
Last Post