The ins & outs of Firearm use, ranges and all you never wanted to know.
01-16-2014, 07:57 AM
Join Date: Jan 2014
Location: Lost Prairie Montana
Posts: 63

The ins & outs of Firearm use, ranges and all you never wanted to know.
---
Having been in the business for some 50 years, I've written and done a few things along the way. I'm currently retired from the Graphics industry and now work for my son. I still go to town at 4am during the week to assist with illustrating, project layouts and contract negotiating, with the only difference that I no longer get paid! heh.........
I began my retirement business around 15 years ago and am still owner of Swiss Products. We manufacture after-market firearm accessories for Swiss rifles.
www.swissproductsllc.com
We mfg everything right here in our own shop.
I'd like to begin this with the age old controversy of "But...but, what about the children?!?" .......... otherwise called "firearms in the home and your kids." I wrote this one years ago as a part of the Lost Prairie Chronicles, but it still holds true.
-------------------------------------------------------------------------------
The Lost Prairie Chronicles #12

Prologue:
By the age of 5 Tommy was convinced that his dad was hiding something very special in the closet on the top shelf. "Tommy, don't you ever go into that closet. Stay out! Something bad is in there".

At 5 Tommy was definitely afraid to go into that closet..... but Tommy didn't stay 5 years old. Tommy grew, and so did his curiosity. He had stood in front of that closet a number of times when his dad came into the room and sternly warned. "Tommy!! Don't you dare!!" And Tommy didn't dare..... at least not then. But that day did come.... at age 8.

Dad and mom were gone shopping. His Aunt was baby sitting and she was outside in the garden. Tommy was alone.
Dragging a kitchen chair to the closet, he opened it, pushed the chair inside, climbed up and stood on his tiptoes. Nothing there......... nothing but a shoebox. Could that be it?? He carefully removed the box from the shelf, climbed down from the chair, sat on the closet floor and opened the box.
*Wow! How cool! Its just like the cops use on TV!* He found that the cylinder rotated and mad a clicking sound. The trigger was too hard to pull so he gave up trying, but..... the hammer! That thing at the back! He was able to pull it back. But now what? Looking at the muzzle of the pistol, he carefully squeezed the trigger. CLICK! *Wow! How cool* Click..... again.

A scream from his Aunt caused him to drop the revolver. "What are you doing!!?? Give me that!!" Tommy dropped the pistol in fear. What had he done? It couldn't be that bad.... besides it looked so cool!
Tommy's dad had made two serious mistakes. First and foremost..... Tommy knew nothing about the dangerous weapon he'd been holding. Secondly, and fortunately for Tommy....... it wasn't loaded.

__________________________________________________ _____________

She had just turned 5 years old, and I knew it was time. She knew there were firearms in the house because she'd seen them from the time she was aware of her surroundings, and they were always well out of reach, but her time had now come.
First came the simple explanation of how any of the firearms in the house could hurt her, or Mommy or Dad. Nodding her head she signified that she understood.......... but she didn't. Not at that age.

She followed me outside and thought the huge headset I put on her was pretty neat. I placed a milk jug full of water just 5 feet away. Donning my own ear protection, I put her both of her hands around the grips on the huge .44 pistol. Covering both of her hands with mine, I held the pistol as far away from her little body as I could and slowly squeezed the trigger.

Despite the headsets the noise and concussion were horrendous, at least for that little girl they were. The milkjug exploded in a vapor of water leaving Rosemary wide eyed and trembling.
Not a word was said at that moment. I unloaded the pistol, took off her headset and we went to where the jug had been. She looked up at me and I asked her if she understood how dangerous any of our firearms could be. She solemnly nodded her head and from that day until she received her own firearms she never went near any of them in the house.

The odd and surprising thing was when I heard her tell her visiting friends to "stay away from all the firearms in the house!!" And she kept a weather eye on any young visitors.
Fortunately all of her friends had parents who had provided an early education to their children as well.

Mystery provokes curiosity. Education removes mystery.


Among her peers and their families, we've never in our Family history heard of a child injured by a firearm in our area. Rosemary carrys a pistol with her wherever she goes, as does her Brother. We live a long way from town and in the past 10 years or so there are a lot of newcomers from the west coast cities, and with them comes their baggage, IE: crime.

Both of my children were required to read two books before owning their own pistols. "In the Gravest Extreme" , Masaad Ayoob and "No Second Place Winners", Bill Jordan. Books outling the seriousness of carrying and the legal implications involved.
Both of them were taught use and respect of both pistols and rifles. Both have their own pistols and rifles.
I'll go into their education another time, but rest assured that both of them were taught respect for firearms at a very early age.
Mystery provokes curiosity and potential disater. Education removes mystery and ingrains understanding. Think about this one with logic and practical application.
---
Last edited by zfk55; 01-16-2014 at

10:22 AM

.
01-16-2014, 08:40 AM
Join Date: Jan 2014
Location: Lost Prairie Montana
Posts: 63

Winter shooting in sub-zero temps.
---
Load data development and Swiss Products new item field testing goes on all year long in Lost Prairie, weather notwithstanding.
This little ShootShed is located at the 100 yard line, it lighted and heated with both benchrest and prone shooting ports. The Rhino is used all year long for running targets.
The backstop takes a 4'x8' sheet of plywood or FoamCore backer and will handle multiple targets for various applications. Here, my son Latigo stapling a sheet of targets.
All of our targets are made in-house on one of our digital Imaging systems at St.Marie Graphics.
Winter shooting can present a problem using the Chronograph because of snow/light interference with the sensors. When snow is present we use a :coffin" with black plastic to shield snow glare. Not one projectile goes downrange here that is not chronographed and logged in the book pertinent to the rifle being shot.
01-16-2014, 08:57 AM
Join Date: Jan 2014
Location: Lost Prairie Montana
Posts: 63

The Range
---
This is the all season, all weather range that I had certified and registered by the Sheriff's Department years ago. I did that in case our area is built up with homes sometime in the future. Nothing worse than a whiney west coaster building a home within a 1/4 mile and then complaining about noise from firearms, elk bugling, horses neighing and general wildlife racket from the woods.
This is the old homestead where all of the St.Marie kids were born and raised. School was in the one-room schoolhouse down the valley.
I'll get deeper into all aspects of what we do a bit later, but it starts here in the Armoury with reloading, load data development, projectile casting and extensive record keeping.
And at this point, I'll introduce my son, Latigo, who is now the keeper of the Armoury and Manager of Swiss Products.
And my Grandson Julian Ricochet St.Marie with his first .22 rifle. This old and very minty Chipmunk rifle was my Daughter Rosemary's rifle around 1979. Back then they were made in the USA in Oregon of real steel and real walnut. My son Latigo inheritied it at age 7 and now his son has it. On this particular day the "old man" was teaching him the three basic shooting positions and correct form.
---
Last edited by zfk55; 01-16-2014 at

09:05 AM

.
01-16-2014, 09:55 AM
Join Date: Jan 2014
Location: Lost Prairie Montana
Posts: 63

Urban and Suburban ranges.
---
This is how the Swiss maintain firing ranges in populated areas.
The "firing tunnels" are constructed with a material essentially the same as Sonex. The muzzle blast is contained and muffled to the point of sounding like a dull thud. The actual noise is not from the projectile exiting the bore, but the hot gasses hitting the cooler air and creating the sound attributed to the firing of projectiles.
There is a secondary "crack" downrange that is actually the sound of the projectile breaking the sound barrier, so a "sub-machine gun" is a weapon firing a sub-sonic projectile and is easily silenced.
01-16-2014, 11:20 AM
Join Date: Jan 2014
Location: Lost Prairie Montana
Posts: 63

---
The Old and the New faces of Swiss Citizen shooters.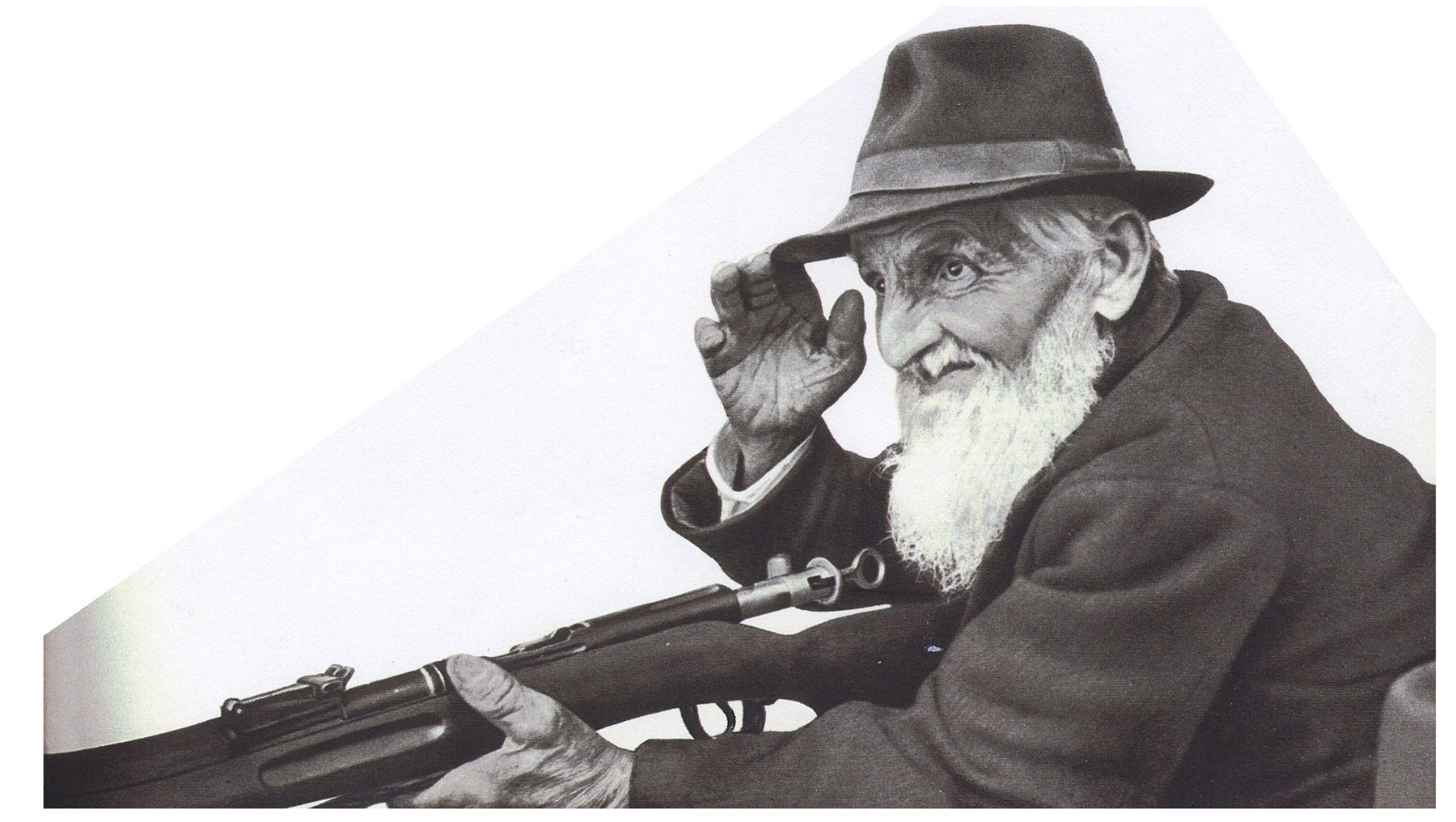 These youngsters are headed for a day a the municipal range,.... not to meet with a drug dealer.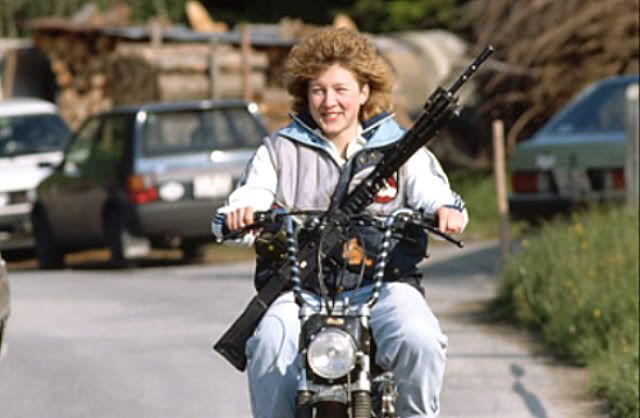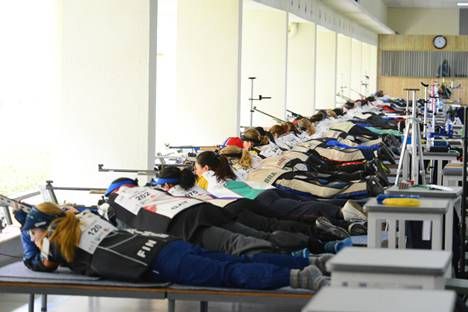 .
---
Last edited by zfk55; 01-16-2014 at

11:26 AM

.
01-17-2014, 10:52 AM
Join Date: Jan 2008
Location: PTW
Posts: 11,746

---
Impressive setup, very nice website, thanks for all the pictures! Looks like a lot of fun working with your son and not being on the payroll you can do what you want.

Interesting, someone I know has a Swiss straight pull but it was stated to be too old to safely shoot with modern ammo.

Curious you state about registering your range, the 600 yard range mentioned previously is now surrounded by apartments and shopping centers yet the site being grandfathered and member owned is still actively working.

As to kids, guns and anything else they can get curious about. Parents have an obligation to both expose and protect them so they find out about these things in a safe and controlled environment. Today's helicopter partners try to eliminate all risks for their kids and the first time a child finds a gun it may end with a bang. Sadly even those who should know better like law enforcement have had tragedies with their kids finding their service weapon.

Training when I grew up was done by school teachers who held gun safety classes on their own time, the Boy Scouts had a .22 range at their summer camp.

The media and gun control advocates are doing the best to demonize what were good times for many I knew and attempting to reframe a piece of metal into a killing machine. Yet gun homicides and violent crime continue to fall, now at their lowest level in 20+ years. Gun homicides are mainly in the large inner cities that have a violence problem, the top 10 cities for gun homicides account for 1/3 of all US gun homicides. The UN estimates 25% of all US gun homicides are gang related.

If powers that be want a unified country, they are going about backwards. At the rate of current gun sales to new owners, gun owners will be the majority party in the US if not already (now estimated to be between 100 and 160 million gun owners), most being over 18 and they do vote. Only a fool would alienate so many voters but no one ever stated politicians could not be fools as those in some states are finding out.

So much for the speech, thanks again for your posts. A blast from the past of simpler days when one was not deemed a child killer for owning a gun and really could ride down the street on their bike to the shooting range, gun in tow without anyone calling 911 or given it a second thought.
01-17-2014, 11:11 AM
Join Date: Jan 2014
Location: Lost Prairie Montana
Posts: 63

---
Joey, unless your friend has an 1889 or earlier rifle, he is not correct. The full bore 7.5x55 issue GP11 cartridge was developed in 1911 for use in the 96/11, the 1911sr, the K11, the k31, the zfk55 and the PE57 rifles.
This is my Son's home forum for comparisons.
http://www.swissrifles.com/sr/detail/
The number of firearm owners/users in the US actually amounts to more than all of the world's armies put together, and that
does
include China.
Thanks for the response, Joey. I'll probably leave this subject matter alone for now. I don't think there's much interest.
Thanks again!
P
01-17-2014, 10:58 PM

---
Thanks for posting about your firearms business (son's I guess) and the neat pics of the range! Very cool and I am very jealous! Great article too about safety, I totally agree. My daughter is still a tad young for any education but I will remember what you have said. Thanks for posting!
05-18-2014, 09:47 AM
Join Date: Jan 2014
Location: Lost Prairie Montana
Posts: 63

---
Since I was here last, Latigo's collection has grown. I the old days there were some 300+ firearms here and back then I was a Class III dealer for law enforcement. About 10 years ago I began thinning the collection down to the best of each type. That left about 60 firearms all (long rifles) in the armoury. The hand guns were also culled down to a select 15 or so.
Latigo has always had his own firearms, but the year after I thinned the collection, he came into his own and went deeply into the reloading, casting and long range shooting aspects.
These are a few of the new items in the armoury. Nothing common or ordinary interests him any longer, so I've been very glad to watch his tastes developing.
The first as a very rare (In the USA) SIG army issue rifle from 1989. It's mint and unfired. We always apply that term carefully and only after a complete check with the Hawkeye Pro Borescope. That little, rather expensive item always tells the truth.
"Very rare" for this one because it's one of 5 in the US. Three are in a museum and the other in the hands of a Swiss collector. It was issued the first year in 3 round burst and semi-auto. This is from the second run and the 3 round burst was changed to semi-auto only.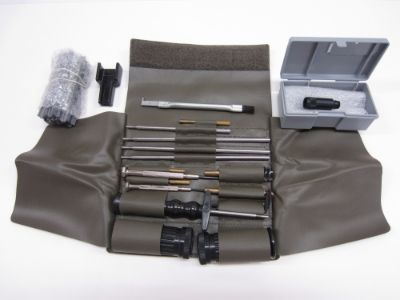 05-19-2014, 12:02 AM

---
Wow. That is a beautiful rifle! I would be so tempted to shoot it! I noticed the owner's manual had "Sturmgewehr" written on it which reminds me of the German rifle used towards the end of WWII. I believe the translation is 'assault rifle'. I could be wrong.
On another note, I'm still real jealous of your own personal range! I did some shooting last weekend with my dad's 6.5 Creedmoor at steel targets at 200 yards. It was a blast!
As always, thanks for sharing.
Thread
Thread Starter
Forum
Replies
Last Post