99 has engine leaking oil
06-17-2018, 08:52 PM
Join Date: Nov 2017
Posts: 10

99 has engine leaking oil
---
Is it possible to replace an I4 with a "stock" V6
without changing the transmission
? The I4 has an oil leak, and I don't think there's any hope it can be fixed.
The oil seems to be leaking onto the engine block under where the red circle is.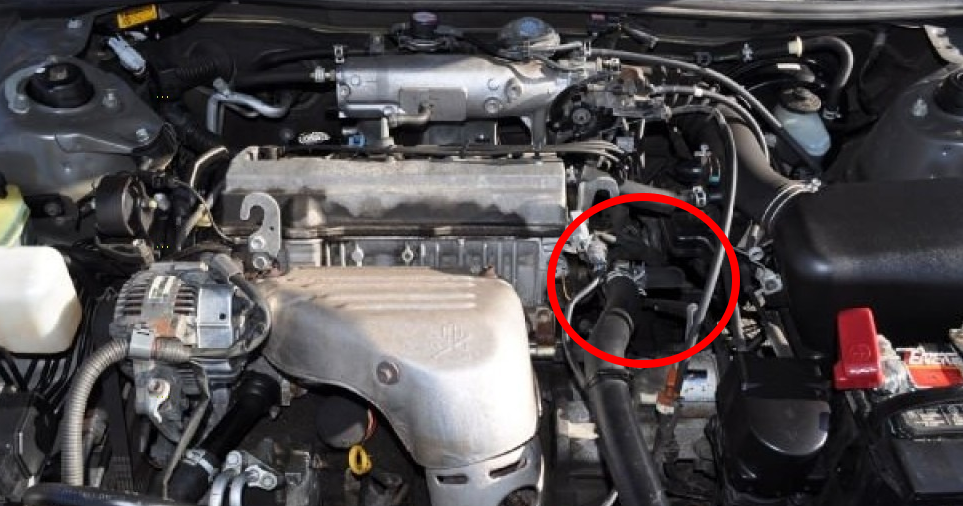 The image is not of my car, but it looks almost the same. I'll post a better one tomorrow when it's bright enough to get a good picture. I know it's not in the valve or the gasket as those have been replaced and that the damage was done before I got the car when this engine was put in. The mechanic dropped the engine somehow, presumably while installing it.
06-17-2018, 10:19 PM
Join Date: Jan 2008
Location: PTW
Posts: 11,742

---
Suppose the trans will bolt up to the V-6 engine but your looking at a LOT of work and expense.

Typically in these cases, suggest someone obtain a complete but wrecked parts donor V-6 donor car.

The current trans is built for a 4-cyl's HP not V-6. The cars computer and wiring harness are built for a 4-cyl. Would need a replacement radiator and a host of other parts.

There are dyes one can put into the engine oil that will glow under UV light to help find leaks. Suggest you go this route first and try to find the leak.
06-17-2018, 10:32 PM
Join Date: Nov 2017
Posts: 10

---
06-17-2018, 11:35 PM
Join Date: Jan 2008
Location: PTW
Posts: 11,742

---
08-24-2018, 10:46 PM
Join Date: Nov 2017
Posts: 10

---
The hole that is circled in red is leaking oil like Niagra Falls. I did the UV trick, and that's where it's all coming from. I have no idea what that hole does or why it's there. Could it be the oil gauge? Because I've run out of oil before and the oil light on the dash never comes on. I would think that if you were down to a quart it would be on, but I'm not a mechanic so what do I know?

The picture is taken from the point of view of the right side of the car. It's a close up of where I had circled in the original picture in my first post.
08-25-2018, 10:08 AM
Join Date: Jan 2008
Location: PTW
Posts: 11,742

---
You going to have to remove the bracket holding the ign coils to view the engine and source of the leak.

The leak could be from the valve cover. Or from a half round plug that fills a hole in the engine block. This hole is were the lower half of the distributor installed in prior year engines.
08-25-2018, 09:50 PM
Join Date: Jan 2008
Location: PTW
Posts: 11,742

---
Thread
Thread Starter
Forum
Replies
Last Post